Our gift certificates can be purchased for a specific dollar amount.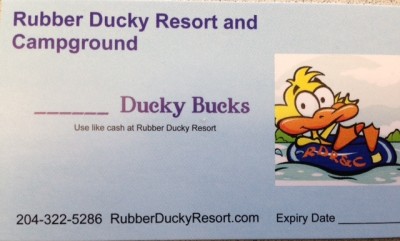 Order by phone toll free 1-866-254-7636 or by email: rducky2@mts.net. Payments can be made over the phone by Visa or Mastercard; by Etransfer; or in person. (Order before Dec 15 to allow delivery for Christmas)
Specific dollar amount gift certificates can be purchased online using PayPal.
Free Shipping is included in all orders.  These links will allow you to pay using your paypal account, then the gift certificates will be sent by snail mail so please allow mailing time.
Ducky Bucks Gift Certificates can be used  like cash at Rubber Ducky Resort and Campgound – for camping, motel room, camping cabin, firewood, and anything from the RDR Grill and Concession.