This page is under construction
Family-Friendly Petting Farm at Rubber Ducky Resort & Campground
Our animals are our passion. We have created a special farm area to share that passion with our visitors. 
Let us introduce you to our animal family
​We started with 2 goats and now have over 20 as part of our farm family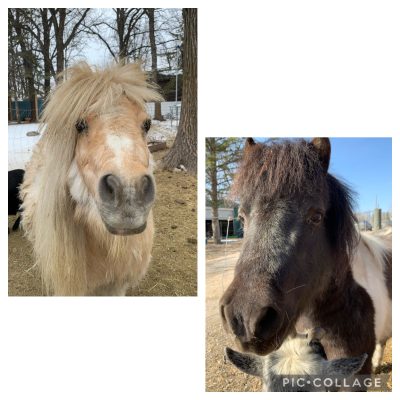 Dallas and Rex are our Miniature horses. They are very close and have lived together for many years. Dallas will be 24 on April 14, 2021 and Rex will be 14 on May 22, 2021
Rex is a very stubborn boy and knows exactly how to get his way. Rex loves scratches under his chin, on top his nose, and on his back near his tail. He is a piggy when it comes to treats, he will stick his nose in your face until he gets more. Rex has a very soft coat, with little white boots on his feet.
Dallas has a sassy attitude, if she doesn't want to do something she will make it very clear. She seems to love rolling on the ground even when it's wet and she ends up getting so dirty, but she doesn't care because she's having fun. If you ever can't find her, look for a tree, a chair, a fence or a trampoline she is likely there scratching her bum. Once she starts scratching she starts moving her head and she will scratch herself for a long time. Dallas isn't a big fan of the wind because it messes up her hair, but it does get it out of her eyes!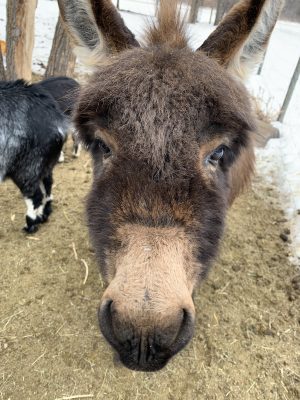 Aspen is a Miniature Donkey. He will be 1 on May 5, 2021.  Aspen loves scratches on his chin and behind his ears. Aspen looks silly when he runs and kicks his back feet up, donkeys are interesting creatures. It has taken quite some time for him to feel comfortable with us but, he has come a long way since we got him in the end of October. He tends to be a bit of a nervous boy, which isn't the best because the goats don't give him any warning when they are doing something. He often ends up getting startled and runs away but comes back right away so he doesn't miss the next chin rub. You will very often see him rolling around on the ground which he loves to do, even tho he gets a dirty!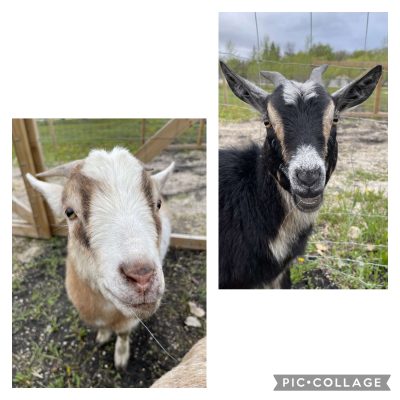 These two are not related but came to us from the same farm. Duke will be 1 on June 16, 2021 and Daisy will be 1 on June 23, 2021. They are a mix of Pygmy and Nigerian Dwarf goats
Duke loves to put his head in between your legs and cuddle, but he has to be very careful because if Lucas sees he's going to get pushed out of the way and Lucus will take over cuddle time. Duke gets bullied by Luke and Murphy but he is about the same size as them now so they backed off of him just a bit. Duke is learning to defend himself very well. Duke has a very loving attitude, and as long as you give him scratches he will be your best friend. Also how could you resist those big eyes Daisy is the baby of the family. Daisy's coloring is very unique, if you look closely she has a black mustache. She is the newest goat member along with Duke, and is still very shy but she is still little so we will work on that. Daisy is the smallest goat and youngest which does have its disadvantages around here, she gets picked on a lot by everyone else. She gave us quite an adventure when she escaped her pen with Duke the first day we got her, 5 people and and half an hour later they were safe and back in inside. If you have ever wondered if it was easy to catch a baby goat…. it's not.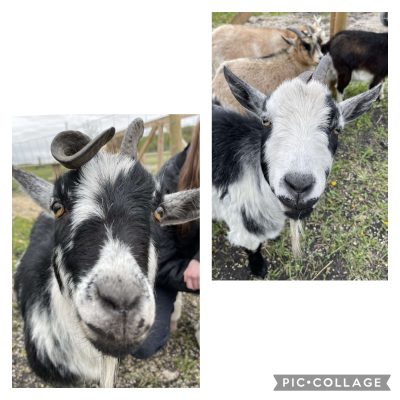 These brothers were the first members of our farm. They will be 2 on March 27, 2021. Luke and Murphy are Nigerian Dwarf Goats.
Murphy is a bit more shy than his brother Lucas, but still loves attention once he's comfortable with you. Murphy's favourite place to be scratched is right on the top of his head. His favorite treats are carrots and apples, bring him those and you will win his heart
Lucas has a sassy attitude and acts tough but is the sweetest boy. You may notice his curly horn it definaetly makes him special, his favourite place to be scratched is the top and the sides of his booty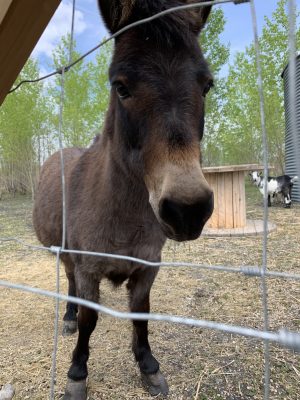 Annie Girl- The mysterious creature. Annie is a mix of a Mini Donkey and a Mini Horse. She acts like a horse more often than not, but every once in a while she likes to kick up her back feet in donkey style. Annie arrived the beginning of December and quickly became friends with all the others. She is still quite skittish with people but is getting better. She will now take carrots from you and let you bop her on the nose.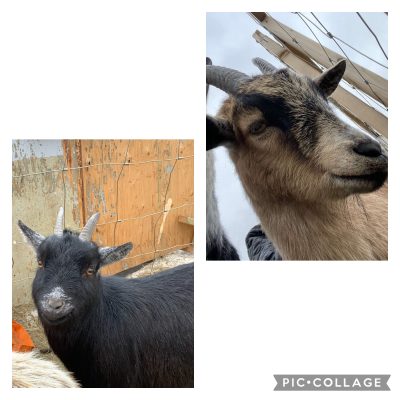 These were our second additions to the farm. These sisters were 1 on February 13, 2021. Nosy and Cora are Pygmy Goats.
Cora has very distinct markings- polka dot ears, black stripe along her back and a white dot on her forehead. She walks with a bit of a waddle because she is short and stubby, especially in the winter months she's become a bit more chunky. She always looks like she's smiling because of the way her mouth is shaped, which is the cutest thing. She loves using her horns to scratch her back, but has developed a bad habit of head butting her siblings. She's a very pushy girl, she will tell you with a tiny bump of her horns on your legs that she wants a head scratch.
Nosey is all black except for the white speckles on her ears and her nose. Nosey and Murphy have a very complicated relationship, when you are looking they are fighting. But I caught them snuggling in the shed before don't tell them . She is a shy girl but does love a scratch on the head and carrots