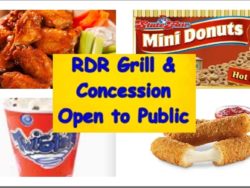 RDR Grill & Concession – with slushes, ice cream treats, and snacks. Text or phone orders to 204-383-0136.Open to the public. Watch for weekly specials. New for 2017 is Mini Donuts.
Summer Hours: Sun – Thu 9am-10pm, Fri, Sat & long weekend Sun 9am-11pm.
Off Season Hours: See Home Page for current hours.